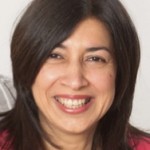 Santina Hovanessian is a psychological consultant who comes from Canada and presently resides in The Hague, The Netherlands. Graduate of Concordia and McGill Universities, Montreal, Canada, she specialises in Counselling Psychology.
She is a certified collaborative conflict resolution coach and is trained in mediation. Throughout her twenty years of career she consulted children, families, students, corporate clients and businesses. In addition, she delivered seminars and workshops both in academic and business settings. She is also frequent speaker in international conferences and forums.
From 2008 to 2018 she shared her time between lecturing and consulting. She was a senior lecturer and an individual coach at the Graduate Department of Rotterdam University of Applied Sciences. Her lectures included topics such as emotional intelligence, critical and creative thinking, self awareness, human development and its influences, communication, self efficacy, teamwork, leadership, and many more.
Past clients come from such international organisations as Shell, International Criminal Court, Philips, Erasmus, ESA, EPO, International School, International Law firms.
Professional Interests & Approach
Santina's special interest is in human sustainability. In her work she uses integrative, strength based and systemic approaches to create personalised systems for her clients which sustain the test of time.  Although the contexts where Santina worked are different, the process is always the same. Whether in academic settings, in business or in personal life, be it students, corporations, parents or law professionals, Santina has used same process to reach successful results.
Professional Memberships &  Associations
Member of NIP (Nederlands Instituut van Psychologen), Psycholog NIP,
Member of CCPA (Canadian Counselling and Psychotherapy Association),
Corporated Member of Quebec Corporation for Career Counsellors,
International Affiliate Member of the APA (American Psychological Association),
Affiliate Member of the APA Division 42 of Psychologists in Independent Practice,
Affiliate Member of the APA Division 13, Society of Consulting Psychology
Member of IACP (International Academy of Collaborative Professionals),
Certified Member of VCDH (Vereniging Collaborative Divorce Holland)